Boat Accommodation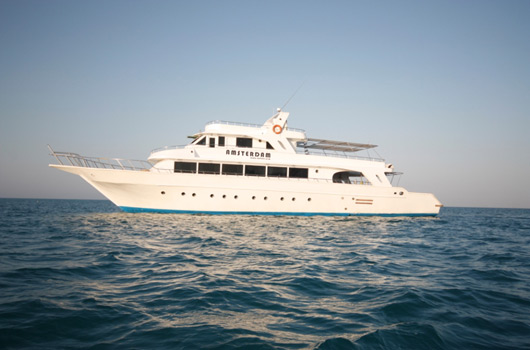 The cruise boat is a fully fitted Live-aboard Safari vessel, with 8 en-suite twin bedded cabins. The well-equipped galley serves freshly prepared international cuisine.  It is spacious and beautifully presented vessel. The bright and airy salon inside has a TV and video and is used at meal times.
The boat amply accommodates all passengers. Sundecks allow room for relaxing.
The Boat ~ M/Y Amsterdam was built in  2001 and renovated in 2006.
Arriving onboard:  
Salon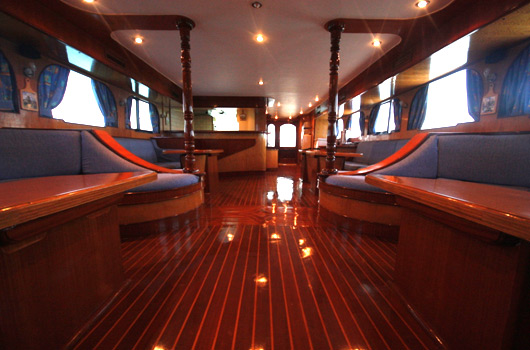 It is air-conditioned and has a wet area for changing.
Cabins
All the cabins are air-conditioned and have portholes to open to let fresh air in.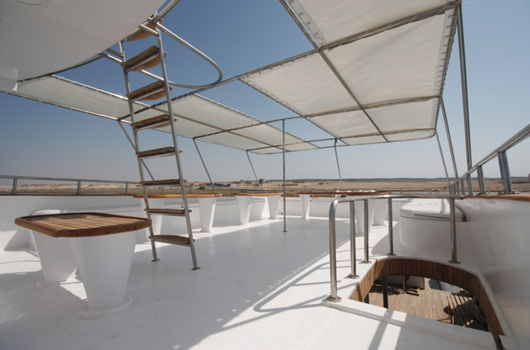 It is not possible to book single rooms for the overnight boat trip. If they had single occupancy it would limit the number of people they could have on board. This is standard on most boats. However, if the boat is not fully booked, you can request single occupancy. The atmosphere is very relaxed and friendly and some people sleep on the decks under the stars!
Sleeping on deck
Many of the guests sleep out on the deck at night under the stars. You are welcome to do this using the sun lounger mattresses.
Bathrooms
The water on board is desalinated water and not drinking water. Please use the water sparingly and choose biodegradable soap to help us to protect the environment.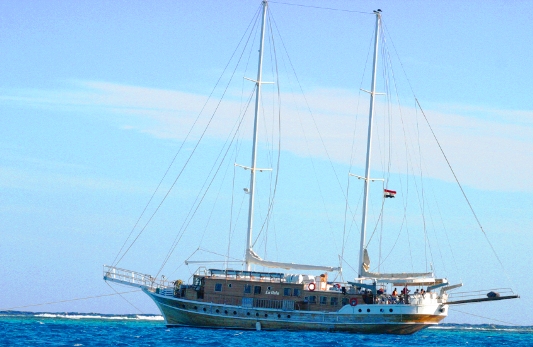 Shoes
The salon and cabins are a  shoe free zone  – outside you can wear light sailing shoes or beach shoes. It is also a good idea to bring warm socks from late autumn until early spring.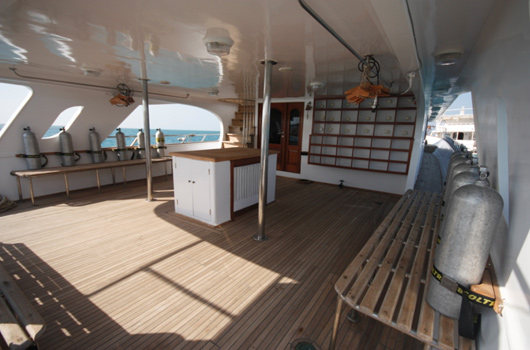 Electricity
220 volt AC, the sockets are European standard (2 pin). Recharging facilities are on the dive deck, do not use any chargers in the cabins.
Food
Three main meals per day on board served as open buffet; the menu is well balanced with a variety of  delicious international cuisine as well as oriental food specialties, snacks are provided.
For special dietary request, please inform us prior to arrival. Feel free to bring your favourite snack with you.
Beverages
Mineral water, coffee, tea and soft drinks are complimentary and available 24 hours. Local beer and wine can be purchased on board. It is advisable not to drink too much alcohol as you are spending alot of time in the open sea.
Smoking on board
Smoking is strictly forbidden in all closed rooms (the fire alarm system is sensitive to any smoke) as well as the dive deck. Outside please use the ashtrays, do not throw the cigarette stub over board.
Health
On board there is a medical kit, but it is advisable to bring your own small first aid kit containing pain killers, stomach and diarrhoea medication, sea sickness tablets, ear drops and plasters. Check with your local doctor for recommended vaccinations and remember to bring any prescribed medicines.
Navigational and Safety equipment
There are enough life jackets for all passengers and crew onboard, as well life rafts (self-inflatable). Smoke detectors and fire extinguishers placed in all cabins, salon, galley, engine room and bridge. International satellite radio, radar system, VHF marine band radio and mobile phones secure the contact to the coast and other boats.
You will have an introduction to the safety system and emergency plan during the boat briefing.
Emergency cases (divers)
For case of emergency, there is a 50l oxygen tank on board with mask and a first aid kit. Each diver should have international decompression insurance, which covers medical evacuation and hyperbaric treatment.
Languages & qualifications
The crew on the boat speaks English. The dive guides speak English, Italian and German, and are safety trained.
Contribution to nature reserve, statement of the environmental law:
No fishing or spear fishing
No feeding fishes or birds
Do not walk on the reef
No gloves or knifes
No anchors
Do not throw any waste to the sea (including cigarette butts)
No corals, shells etc to be removed from the reed
Always remember this saying: 'leave nothing but bubbles and take nothing but memories'
Climate, clothes & water temperature
It is a dry desert climate at the area of the red sea. Water temperatures range from 20°C in winter month to 30°C in summer. The air temperature ranges between 38°C and 45°C from May to September and from October through to April between 22°C and 29°C.
From December to February the nights can be quite cold (we recommend to bring a sweater or jacket with you), but in summer the nights are warm. Divers can use a 3mm suit or shorty during late spring, summer and early autumn. During winter a 5mm two pieces or 7mm suit is suitable.
Culture
With consideration of the Muslim religion and culture, it is not allowed to lay topless and walk around undressed. Please respect the culture and religion of the country.
Tips on board
We believe that tips should be on voluntary basis, depending on the quality of service from the guide and the crew, as a recommendation you can consider 25 € per week and per guest.