Overnight Dolphin Safari – an additional opportunity to swim with dolphins
This is a fantastic opportunity to enhance your eco resort holiday by spending an extra 24 hours at sea, taking a 2 hour cruise out to a more remote reef of the Southern Red Sea where we take the time to swim alongside wild dolphins in a relaxed manner. Delicious meals, snacks and drinks are provided on board. Time can be spent sitting on the sunny deck, snorkelling around the reef, chatting with fellow passengers and swimming alongside the dolphins at different times of day such as early morning and late evening. It really is a chance to see the dolphins for a more extended period of time, observing them when they are resting and being in the water with them when they're playful and active.  THIS IS IN ADDITION TO YOUR ECO-RESORT HOLIDAY AND WILL COST EXTRA.
Overnight Timing
08.30  Depart Resort  Transfer to Marina for overnight boat ( 2 hours )
Board boat and depart for offshore reef ( 2 hours )
Moor up in reef and have lunch on board followed by an afternon swim with the dolphins
Dinner served on board and relaxing evening under the stars!
Early morning swim with the dolphins after sunrise approx 6 am followed by lunch
2 pm Depart for Marina and transfer back to resort where you will arrive about 6 pm in time for dinner
Our beautiful Dolphin Safari boat is the perfect place to spend a night of your holiday – click here to see more details about the vessel and your accommodation for the evening.
The overnight  dolphin safari  is available all year round.
Other activities and excursions can be arranged.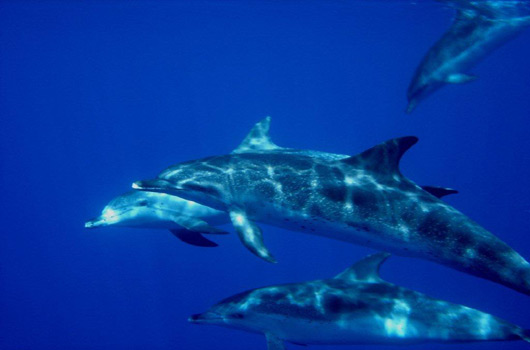 YOUR HOLIDAY:
You will be transferred from the airport and met by our guide who will give you an orientation and introduce you to the resort, where refreshments will be provided on arrival. A snorkelling practice can be arranged on your first day to get comfortable with your mask, snorkel and fins, these can be hired but it is advisable to bring your own.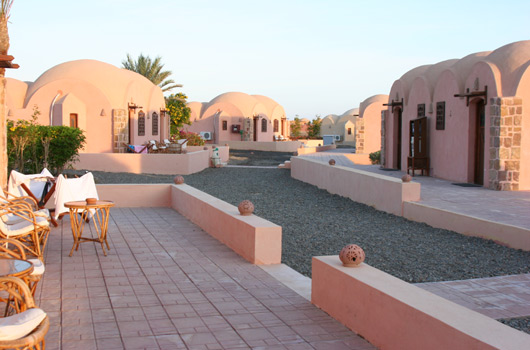 There will be a safety talk and opportunity to snorkel in the bay close to the resort. Guides are available if you need them and various extra excursions can be pre-booked or arranged when you are there. You need to be able to swim, but no scuba experience is needed. Equipment may be hired on site. See Fact Sheet.
SAMPLE ITINERARY     ↑ Top
Day 1.  Arrive Marsa Alam or Hurghada – transfer to eco-village resort (½ hour transfer from airport) where a lavish buffet or snack awaits you, depending on the time of day. All water and soft drinks also included.
Day 2. Morning: Snorkelling preparation and briefing. The resort is also a PADI-certified diving school so it is possible to either learn to dive or dive with one of the groups. Afternoon: Relaxing and snorkelling around the beachside reefs.
Day 3.  Visit to Abu Dabab (nearby bay) to snorkel with sea turtles. Other extra activities can be booked with our guide on site, such as camel rides or a visit to the ancient Egyptian sites of Luxor (a full day trip). It is possible to enjoy a city tour on this day, shopping in the bazaars and buying Egyptian souvenirs.
Day 4.  A day to relax at the resort or take the chance to include an excursion, before the overnight  Onboard Adventure begins tomorrow. Plenty of time to spend on the beach, take a desert camel tour or a sunset camel trek under the desert sky with the local bedouin. Our guide is an expert on the starry sky.
Day 5.  You will be driven by our guide to the Marina (2 hours drive time) for the Onboard Adventure Dolphin Safari. The boat will cruise to the reef in time to enjoy lunch on board before spending the afternoon snorkelling with the dolphins or exploring the coral reef and beautiful fish.  This reef is situated about 2 & 1/2 hours from the marina and is relatively off the tourist trail. It is a special privilege to stay here for a few days and relax into the experience, being looked after by the crew and socialise with everyone on board.
Days 6  Continuing time with the dolphins and exploring the coral reef. You can swim before breakfast and have a full day taking as many opportunities to be with the dolphins, from our cruise boat or from small zodiac boats. We may move to a different reef or to other parts of the reef depending on the condition, return to the marina (2 & 1/2 hours cruise back) to resort
Then rest of holiday days at resort taking furthur day trips to the marine park reserve depending on your timing which will be explained to you on arrival
WHAT IS INCLUDED:     ↑ Top
Marsa Alam airport transfers and transfers to Marina for Onboard Adventure.
6 nights accommodation (chalet, hut or domed tent options for every budget).
All meals served buffet style, excellent cuisine and wide variety, soft drinks at resort and on boat.
2 day trips to the Marine park reserve
1 nights accommodation and meals on boat  (twin cabins).
Services of dolphin swim guides and local hosts who will look after any logistics of the holiday, including a snorkelling briefing and safety talk.
On your free days you can choose to snorkel on the coral reefs along the shore of the Eco-Village and other bays in the area, take extra day trips to the dolphins, scuba dive, or just relax and enjoy the peace of the desert and sea.
Additional excursions including horse riding, desert trips, city tours, and day trips to Luxor can be pre-arranged or booked on arrival ( subject to availability).
THE LIVE ABOARD SAFARI BOAT: ↑ Top
The boat has 8 en-suite twin bedded cabins. The well equipped galley serves an abundance of delicious international cuisine. It is spacious, bright and airy with a large saloon, 2 large sundecks, shaded areas, air conditioning,  TV and video, and private cabins which amply accommodate all passengers. See here for more information.
We work with a local Egyptian boat operator who has been taking people to swim with a very special pod of resident spinner dolphins for the last 2 years.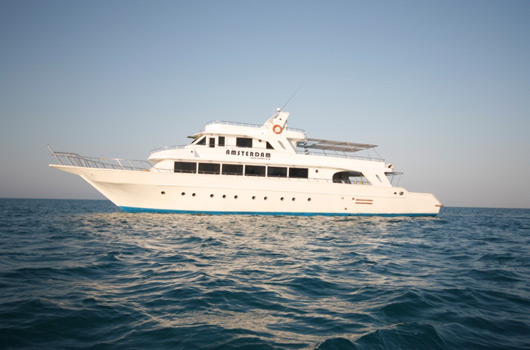 THE DOLPHINS:     ↑ Top
These dolphins live in the protected shallow waters of the lagoon during the day to rest, socialise and play. Dolphins spend a large part of their active time playing. At night they go out into the open ocean to hunt. When they come "home" they display very clear signs as to whether they wish to play with humans or would prefer to be quiet.
When the time is right, we have found these dolphins to be amazingly playful, curious and interactive with humans. It is an unbelievable experience of joy and delight.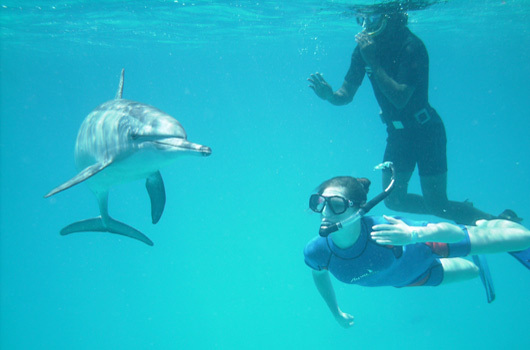 THE OFFSHORE CORAL REEF:     ↑ Top
During the overnight Onboard Adventure, we spend our time in this beautiful turquoise lagoon of exquisite coral reef and can enter the water when the dolphins are socialising and playing. In these calm shallow waters away from the open sea, your time will be spent snorkelling in the brightly coloured coral and marine life, relaxing on a sunbed on deck, eating delicious meals prepared by the resident chefs, socialising and taking time to relax. All freshly prepared meals are included and served in the onboard restaurant.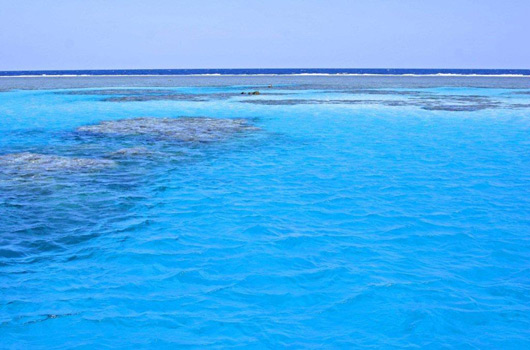 When the dolphins are in an active playful mood (this will be for many hours each day) we can join them either from the cruise vessel or by using the RIB boat to get close to them. Whilst no regulations are in place in this area we do implement a very strict code of conduct as if we were in the Marine Park Reserve, so we do not disturb the dolphins natural behaviour. All interactions are on the dolphins' terms. We are conducting a research program to monitor the behaviour of these dolphins and avoid any negative impact. It is important not to disturb them when they are quiet and resting.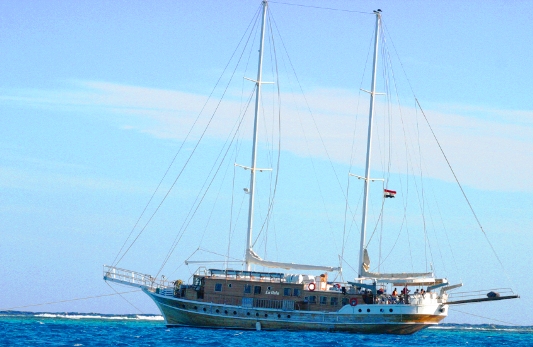 Dolphin species we expect to see and swim with are Bottlenose, Spinner, and Common dolphins. Also resident but more unusual are Rissos dolphins, whale sharks (plankton eaters) and manta rays. Rare sightings may include Leatherback and Loggerhead turtles and Dugong.
Click here to see the cost breakdown for this Onboard Adventure and our booking procedures. Feel free to contact us to check availability for the dates you have in mind or ask any questions.