Visiting the Dolphin House Reef
For many of our guests, one of the most exciting activities are our visits to the place that the locals have simply named "The Dolphin House".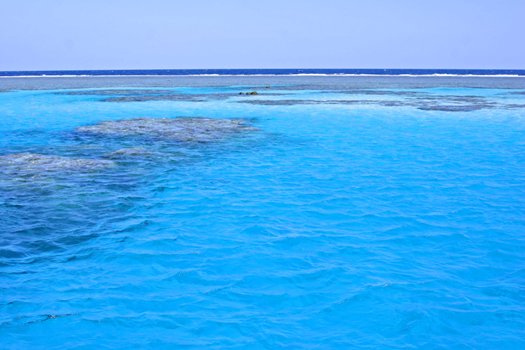 One hour by boat from our resort lies an ofshore reef that has been designated a Marine Park Reserve. Offering protection to beautiful corals and a vast spectrum of tropical fish, it is no surprise that a pod of wild spinner dolphins has made this haven their home. It has strict regulations to protect the dolphins and all the marine wildlife. This area is very special and sightings of dolphins occurs daily. The zoning regulations (see below) are a very effective way to protect the dolphins so that people do not harrass them. When they want to meet humans they come to us in the 'swimmers only' area and they are very curious and playful at these times.
Without these regulations there would be too many boats around the dolphins causing a negative impact. There is a limit of the number of swimmers that can go to the area at any one time to avoid any overcrowding. Swimming with wild dolphins can only be sustainable if it is done in a responsible manner. Our ethos is to work to improve regulations and conditions in areas where swimming with dolphins is permitted. This way you get to experience the natural behaviour of the dolphins without causing them any disturbance.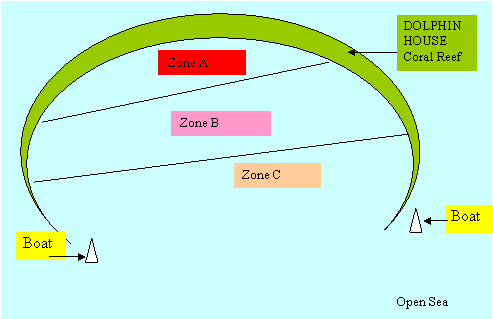 Swimming with the dolphins is allowed between 10 am and 2 pm
The number of boats and swimmers in the area is regulated
The Zones are marked by buoys in the water
Life jackets must be worn (provided on boat)
There is a protected area (Zone A) for dolphins only, where no boats or swimmers can disturb them
Snorkelling with the dolphins is allowed in Zones B and C and outside the reef
Safety boats will drop you off and pick you up in Zone C
Swim gently with your arms folded or behind you when the dolphins are close
Do not chase or touch the dolphins
No diving underwater in the dolphins' area
Do not wear jewellery
Apply sun-tan lotions at least 30 minutes before entering the water
The dolphins tend to be in groups and are usually easily spotted from the boat. Swim slowly towards them. Do not try to catch hold of them and they may come quite close. There may be between 20 and 300 dolphins around you and they will come and go. You will hear them clicking and whistling and they may be very playful. You are asked to wear a life jacket for your safety in the Marine Park Reserve. It is possible to swim with wild dolphins without a lifejacket when visiting more remote reefs such as on the onboard adventure if you are a strong swimmer. We have our own team on board to look after your safety.
In order to preserve the proper management of this beautiful reef, there is a visitor tax of €20.00 per person payable directly to the Marine Park Officials.
Definitely bring an underwater camera with you. The disposable ones are perfectly adequate. Relax and enjoy lunch on board. If you wish to make extra swims on your own, you may provided you inform the swim guide. Only snorkellers are allowed in with the dolphins, no scuba diving, though the divers come to enjoy the excellent dive sites outside the reef.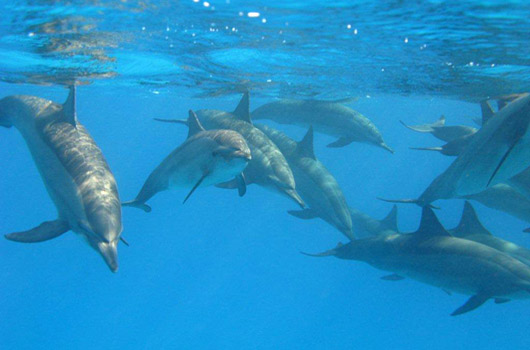 Weather-wise, the best months are between March – November. Although the dolphins are resident all year, it is easier to see them and swim with them in the warmer months when the sea is calm. Every day the dolphins come into the reef in the mornings and spend the day there, playing, breeding and resting, then go out at night to feed. The winter months can sometimes be windy, but if your boat trip is cancelled for any reason we will endeavour to make it up during your stay, though please understand we do not control the weather!
The beach of the Eco-Village Resort has a sandy approach leading to superb coral reefs to the north and south, known as the House Reefs. The best coral can be seen near the surface and there is a huge variety of coloured fish. In addition to fish and beautiful coloured hard and soft corals, you may spot an octopus, turtles, small sharks, rays or even a dugong. Often Bottlenose and Spinner dolphins can be found on the House Reefs.