FAQs
·Where is the resort?
We're based on the beautiful Egyptian coast of the Southern Red Sea, 3 hours south of Hurghada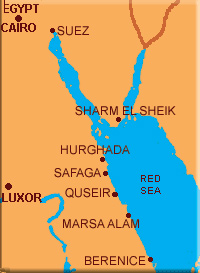 . The eco-resort is 20km north of Marsa Alam, a 30-minute drive, and the dolphin trips leave from nearby. Our representatives will meet you at the Marsa Alam airport and we'll arrange all the transport from there. Feel free to contact us to discuss recommended travel arrangements and flight times. See Getting There for more information.
·Do I need a visa?
Yes. Most people will be granted a visa on arrival in Egypt if travelling on an EU passport but please check the regulations before you depart. See Fact Sheet. Valid passport and travel insurance documents are necessary.
·What else can we do in the area?
On the days that dolphin trips aren't taking place you are free to relax at the resort or on the beach or book excursions to local sights and towns, depending on availability. Our resort is a dive centre (PADI) so learning to dive is a popular choice, or if you're already qualified there are plenty of world-class dive sites in the area.
·What other people can I expect to meet on the trip?
Other guests in the resort can include families, friends, couples and independent travellers, but it's entirely up to you whether you wish to socialise or spend time relaxing over a quiet dinner or reading a book on the beach. We cater to people of all ages and backgrounds who share a passion for dolphins, adventure and new experiences. Day trips to the reef are on a boat with a maximum capacity of 25 people, and small boats of 6-8 people are used to drop you off in the water alongside the dolphins. The eco-village resort hosts many divers as it is close to some of the best world class diving sites.
If you choose our Overnight Safari in your resort holiday you will share the onboard experience with a total of sixteen passengers from the eco-resort, and six crew. We have found this to be an optimum number; enough people for diversity, but small enough to remain personal. Everyone has plenty of opportunity for interaction with the dolphins, entering the water in pairs on a rotation basis, meaning you can be assisted if necessary and the dolphins are not disturbed by large groups in the water at once.
·What currency is used in Egypt?
Although the currency in Egypt is the Egyptian Pound we suggest that you bring Euros cash because most prices are in Euros and they are accepted everywhere. Note that in Egypt it is not always possible for banks to provide a cash withdrawal against your Visa card. There is a 5% charge on credit card transactions and 1.5 % on Travellers Cheques on site. All purchases in Egypt are subject to 10% sales tax on top of the shown price. See Fact Sheet.
·What can I expect from an average day during the resort holiday?
On the 3 days of dolphin swimming we usually leave the resort at 9.30am to meet the boat to the Marine Reserve (approx. 40mins drive). The day will be spent cruising to the Dolphin House reef, snorkelling and swimming with the dolphins and a leisurely lunch on-board, before returning to the resort about 4pm. The remaining days of your holiday can be as action-packed or as relaxed as you'd like them to be. A daytrip to a nearby bay where you're likely to be able to snorkel alongside turtles is included, plus optional extra excursions like horse riding, scuba diving, desert trips or city tours can be arranged. Learning to dive is a popular choice and extra dolphin trips are available. The snorkelling from the shore of the eco-village and nearby bays is also fantastic, or simply enjoy the peacefulness of the beach and desert, popping in and out of the resort for meals and drinks as you please.
·Do I need to be a good swimmer?
If you are a strong swimmer you will be more likely to be able to play with the dolphins and attract their curiosity. However many of our guests prefer to float with buoyancy aids and watch the dolphins beneath them, this is very beautiful and they are likely to come to say hello! Some people prefer to interact from the boats and not enter the water, it's completely up to you. Our team offer training in gaining confidence in the water and are vigilant when in the open water.
·Are the boat crews safety-trained?
Yes. We work with local Egyptian boat operators with good safety and customer satisfaction records. The crewmembers are there for your comfort and safety and to pass on their knowledge of the local area and marine wildlife. We offer a lot of support and encouragement to develop confidence, and provide lifejackets as buoyancy aids which inflate in the open water if the swimmer gets tired or is in any kind of distress. The crew are constantly vigilant of everyone's competence in the water and encourage everyone to express any concerns they might have and engage at their own pace.
·What wildlife can we expect to see on a trip?
We visit the Marine Park reserve for our day trips. It is an hour offshore, which is also known as the 'Dolphin House' because of the large population of Spinner dolphins who have made it their home. It is also possible to come across Bottlenose and Common dolphins. Also resident but more unusual, are Rissos dolphins, whale sharks (plankton eaters) and manta rays, whale sharks. Rare sightings may include Leatherback and Loggerhead turtles and dugongs (manatees). Various brightly coloured fish and coral species can be seen while snorkelling. On the more remote reef visited on the Onboard Adventure holiday there is also a pod of resident spinner dolphins and an abundance of other marine life.
·How do you know we're not disturbing the dolphins?
Dolphin conservation is very important to us. We ensure that all interactions take place on the dolphin's terms – they come to us, not the other way around, and we operate in accordance with international guidelines regarding the protection of marine mammals. This ensures an enjoyable experience for everyone, including the dolphins themselves, whose natural curiosity usually brings them right up to people in the water. If their behaviour indicates they are resting or avoiding contact we do not approach and wait till they are in an interactive mood.
.What about Sharks?
Sharks do not tend to come into the shallow waters of the offshore coral reefs as they prefer deeper waters and are found further offshore where they can hunt. The divers meet them a lot when diving the reefs further out to sea and they co-exist peacefully. It is not in the nature of a shark to prey on humans, shark attacks that have occurred in the past have been proven to be due to "baiting " by unruly dive companies in Sharm el sheik to attract the sharks to areas for divers to see. This practice is illegal and very stupid and anyone caught now in Egyptian waters is fined heavily and have their licence removed. So it is highly unlikely you would see a shark on the dolphin trips and the chances of an attack for no reason is unheard of.
·

What if the weather is bad?
All activities (including dolphin swims and snorkelling) are weather dependent and subject to suppliers' arrangements with boats. In the unlikely case we have to cancel a sailing we would do our utmost to reschedule your trip for another day of your holiday.
·What do you recommend if I'm worried about seasickness?
Seasickness can be inevitable for some people so we do recommend you bring preventative medication with you. Herbal alternatives are also commonly available and eating pieces of ginger or ginger biscuits is known to help prevent queasiness and even flat coca cola. Generally the sea is calm in the reef as it is protected from the open ocean.
·
What should I bring
?
Bring a swimming costume and you're welcome to bring your own wetsuit, snorkel, mask and fins but these can be rented on site. See Fact Sheet for more info.
·

Will there be food available for people with specific dietary requirements?
There will be a variety of food served at the resort and on the boats, including vegetarian options, but it is best to let the chef know when you arrive about any specific dietary requirements. They will do their best to accommodate them.
·

Are there any 'extras' that I need to budget for?
There is a fee for the visa obtained on arrival in Egypt (currently £13, see Fact Sheet). Other extra costs might include extra snacks and drinks bought at the resort and optional day excursions.
·
How do I book?
Please feel free to contact us to discuss the details of your trip. Think about the dates you'd be looking at, availability of flights at that time and browse the accommodation options at the Eco-Village. When it comes to booking your holiday we do require a non-refundable deposit of £250 per person, and full payment 8 weeks in advance. See costs and booking information.
·

Financial security?
Dolphin Swims operates a Trust Account, meeting the UK and EU regulations regarding travel and package holidays, providing 100 per cent financial security to customers. This means that your money will be refunded in the unlikely event of our withdrawing our services or insolvency. You can also pay by credit card which offers some protection.
The deposit is non-refundable. If there is any problem with visiting due to the political situation we will reschedule your holiday with NO cancellation charge to you.