7 nights all inclusive Beachside Eco-Village including Swimming with Dolphins
Price range: £875 to £1220 per person with year round availability and accommodation to suit all budgets
What's included
A 7 day programme includes:
7 nights accommodation, all meals served buffet style, excellent cuisine, free unlimited chilled mineral water, teas, coffee and soft drinks throughout the day.
Airport transfers (Marsa Alam airport) and transfers to the Dolphin Swim boat.
(*Hugarda airport transfer incures an additional charge of £70 return per person)
Services of local expert dolphin swim guide and local hosts who will look after any logistics of the holiday, including a snorkelling briefing and safety talk.
3 day trips to  Swim with Wild Dolphins including lunch on board, accompanied by Dolphin Swim guide.
Snorkelling excursion to see sea turtles (almost guaranteed as they live in the area) and Dugongs (these are much more rare, you may be lucky!).
On the other days you can choose to snorkel on the coral reefs from the beach of the Eco-village. The zodiacs take you to other parts of the reef in the area from where you can snorkel back, or you can take extra trips to the dolphins, scuba dive or just relax and enjoy the peace of the desert and sea.
Additional excursions include horse riding, camel treks, desert sunset trips and city tours which can be pre-arranged or booked on arrival (subject to availability). Luxor is also possible to do as a day trip from the resort to see fine examples of ancient Egyptian cultural history.
On the 3 Dolphin Swim day trips you will be transferred at 9.30am (40 min transfer) to the dive boat with other divers and snorkelers. Lunch on boat and return back about 4pm.
Check out the prices for each season and accommodation options here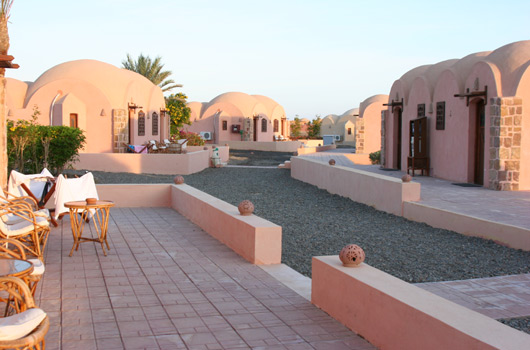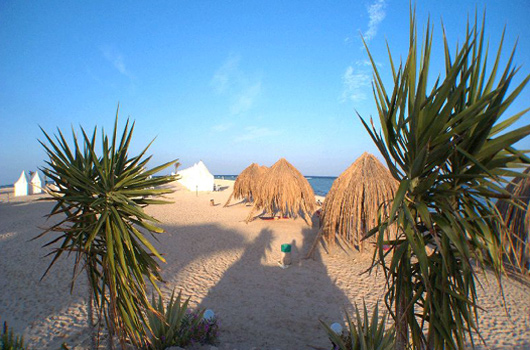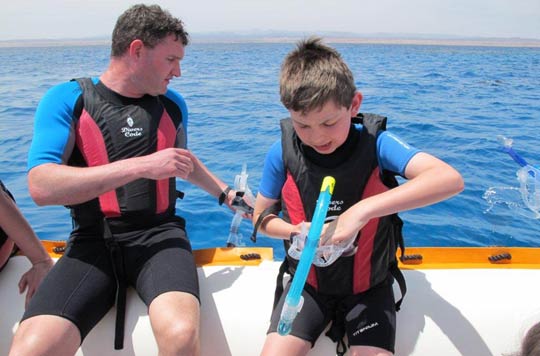 Your Arrival
After a 5 hour flight direct from the UK or main airports in Europe, we will meet your flight whatever time of day you arrive.
You will travel by air-conditioned car or mini bus to the Eco-Village near Marsa Alam where you will be greeted and shown to your accommodation. There will be a meal or a snack waiting for you in the restaurant, depending on the time of day.
The Programme
You will be given an orientation and a snorkelling practice on your first day to get comfortable with your mask and snorkel if you need to. There will be a safety talk and opportunity to snorkel in the bay close to the resort. Resort guides are available if you need them and various extra excursions can be pre booked or arranged when you are there.
On 3 days each week we travel in well equipped dive-boats with upper and lower shaded decks, toilets, a salon and galley to the reef (in the Marine Park Reserve) and then swim with the dolphins in the sheltered bay.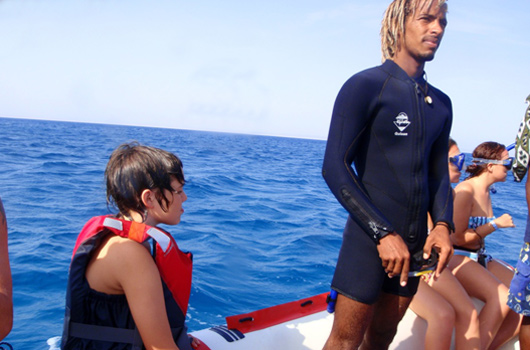 You need to be able to swim, but no diving experience is needed. You will be using a face mask, snorkel and fins. The Eco-Village Resort has a PADI-certified dive school, where it is possible to book introductory courses or for qualified divers you can dive at the many local world-class dive sites. Equipment may be hired on site.
The Dolphins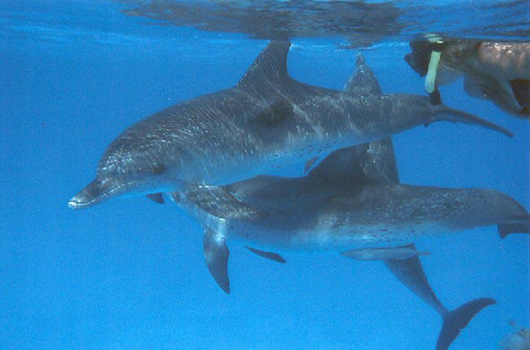 The U-shaped coral reef lies in calm turquoise waters off the Egyptian coast, one hour by boat. It has been designated a Marine Park Reserve so it is a protected area. A group of up to 200 Spinner Dolphins rest, play and raise their young away from the strong currents and dangers of the open sea. If the dolphins are outside the bay, our small (RIB) boat drivers will take you to them and drop you into the water beside them so you can watch them underwater and interact with them. This reef is a popular spot with divers so there is usually several other dive boats there and likely to be other swimmers in the areas where the dolphins play.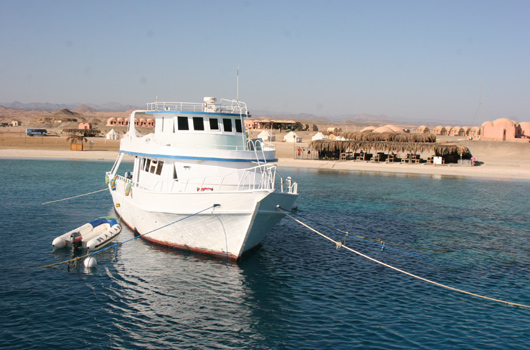 The area is famous for the spectacularly beautiful coral reefs and very popular with scuba divers. You will also have plenty of opportunity to snorkel and be active in the water or take time relaxing on a sunbed on deck. While snorkelling you may see Dolphins, Turtles and Rays or the very rare Dugongs which live in the area. You can also enjoy the colourful coral and fish of the reef.
Lunch is prepared on board in the galley. Ideal for families, small groups & individuals.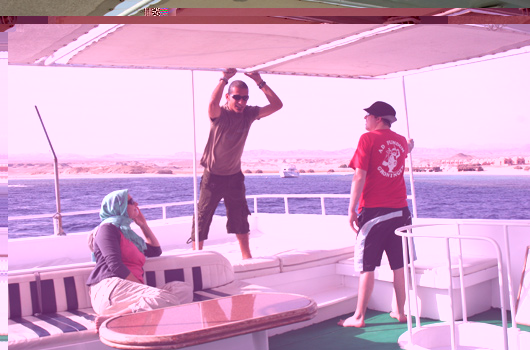 We have a range of accommodation available from luxury air conditioned chalets to furnished tents to suit your budget, and further information on climate and what to bring is provided on the Fact Sheet.
Excursions . Costs and Booking . Marine Park Reserve . Accommodation